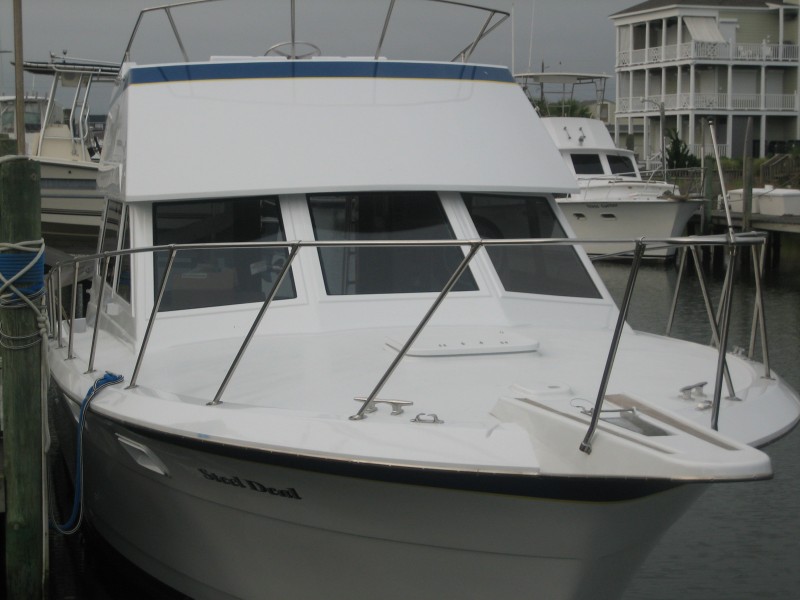 Lookout Boat Windows
Keeping the Traditional Character of a Hatteras 36′
One of the distinctive qualities of Lookout Boat Window Frames is the fact that once installed, the original character of the boat is not distorted but enhanced.  This is evident in the pictures of this 36′ Hatteras and the story that follows.
Originally, the aluminum boat windows in this Hatteras 36′ had heavy corrosion and numerous water leaks that led to interior wood damage.  The boat was scheduled for a complete restoration, inside and out that included the following updates:
Power
Generator
Paint
Wiring
Interior
Windows
The owner of this 36′ Hatteras was adamant that he wanted to replace his old aluminum frames with new aluminum frames.  This method would guarantee that the character of the boat was retained, which was very important to this boat owner.  So although this boat owner was aware of our product, Lookout Boat Window Frames, he had not seen the finished product installed on a boat.  He was sure that aluminum replacement boat windows were the way to go.
So he moved forward with his boat restoration project and ordered new aluminum frame material to build his new boat window frames.  He welded the aluminum together at the corners to build the replacement boat window frames. But he had a bit of trouble with the welds holding together. Note that by trade, the owner is a professional welder, so he knew what he was doing. Once he was satisfied with his welding, he sent the aluminum boat window frames off to be anodized. When the completed anodized frames came in, he noticed some hairline cracks in the welds.  At that point the owner decided these aluminum frames were not going to work.  Fortunately for him (and us), we are neighbors!
By this time,  Lookout Boat Window Frames had been installed in our Hatteras 58′ YF. Once the Hatteras 36′ owner saw our new windows, he realized that the character of the boat had been preserved while enhancing the charm of the tradition of a Hatteras Yacht. Soon thereafter,  Lookout Boat Window Frames were installed on this 36′ Hatteras Convertible.  The owner is very satisfied and loves the new look of an old Hatteras!