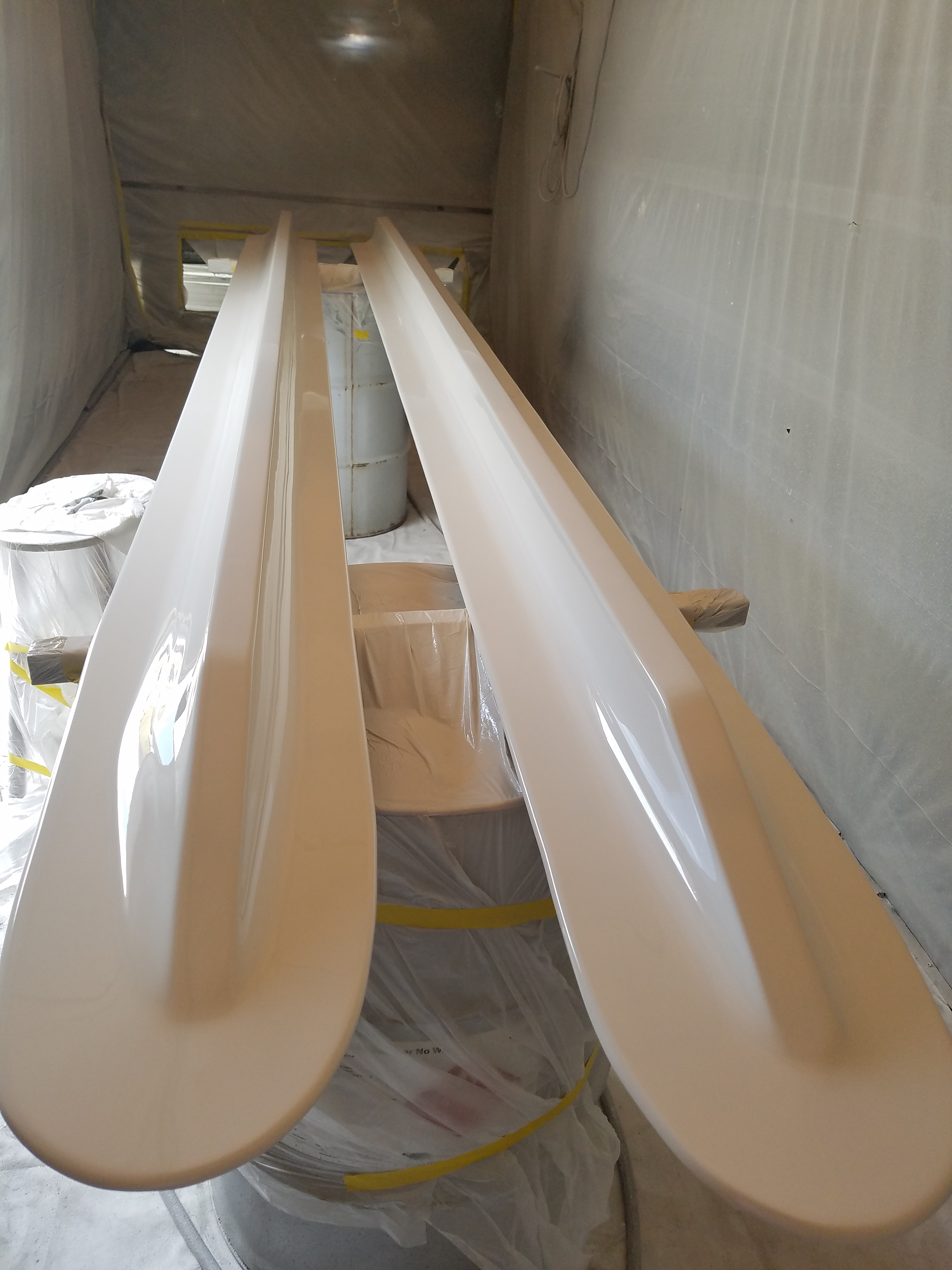 Fiberglass Aft Quarter Fenders
Boat Maintenance Just Got Easier!
Aft Quarter Fenders made of wood are often found on vintage Hatteras Yachts. Some folks refer to them spray rails, but to the contrary, the function is not to prevent spray. Instead, they protect the hull from damage when docked on a floating dock. In addition, a stainless steel strip is attached over the fender to provide more protection.
Of course we know that wood and water don't mix. The caulk used to seal the wood to the hull degrades and provides an opening for water to invade the wook. As a result, the wood decays and this leads to more maintenance requirements.
We've taken the work out of wood aft quarter fenders and replaced them with solid fiberglass. Here are pictures of after quarter fenders on two different Hatteras Yacht Fisherman 58′ located in our boatyard for a refit.
Take a Look!
Picture #1 is equipped with original wooden aft quarter fenders with a stainless steel strip attached. Contrary to what you may think, the visible brown stains are not only from the metal screws, but from the rotten wood that is present as well.  The caulk deteriorates and separates and provides an opening for more water to encroach into the wood.
Picture #2 has replacement fiberglass aft quarter fenders installed. The fenders have been primed, but paint hasn't been sprayed yet as this yacht is scheduled for a paint job and a full refit. These fenders are through-bolted into the hull and fiberglassed in for a low maintenance application. We use high quality 316 grade stainless steel screws to attach the stainless steel metal rub rail in place over the fiberglass.
Pictures #3 and #4 are new fiberglass aft quarter fenders that have just been painted and are ready to come out of the paint booth. These fenders are scheduled for installation on yet another Hatteras Yacht Fisherman 58′.
Fiberglass is a much better choice for aft quarter fenders in comparison to wooden fenders. Why not get rid of the wooden maintenance mayhem forever? Spend your time and money on cruising instead!
Customers can buy direct for these models:
Hatteras Motor Yacht 53′ and 58′
Hatteras Yacht Fisherman 53′ and 58′
Custom orders welcome!